Notify the right people at the right time with custom email notifications.
Automatically send and receive emails when forms are completed.
Create custom email notifications to share with your customers and staff after new entries are submitted or updated. Personalize these emails by editing the subject/message and including options like entry details, payment information, uploaded files, and document copies of entries.
Email notifications are available on every plan level, from free and above. Additionally, Cognito Forms offers several advanced options for organizations on our Pro, Team, and Enterprise plans:
Include files, documents, and workflow links
Include any files that your users uploaded to their form as attachments in the email notification, as well as attach a PDF file or Word document copy of their submitted entry. Plus, include a workflow link that allows users to either view or edit their submitted form.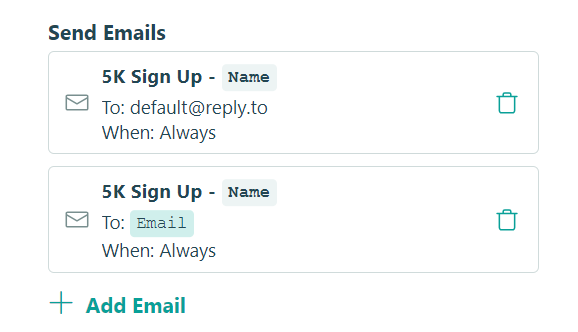 Create multiple notifications
You can create as many different versions of your email notifications as you want. And, using conditional logic, these emails can be sent to specific people depending on what your users select or based on the form status (Incomplete, In-Progress, Pending, etc.).
Additionally, you can open an individual entry to resend a notification at any time.
Send emails from your own domain
Cognito Forms customers on the Team plan and above can verify their email domains for use with our system. This enables you to create notification emails using your own email address. While the emails are still delivered using secure Cognito Forms servers, they'll appear to recipients as though they came directly from you.
This helps provide a seamless experience for your customers and coworkers. All they'll ever see is your form, your brand, and your email address – making the Cognito Forms platform completely invisible.