In the heart of South Carolina's vibrant business landscape, Cognito Forms has once again demonstrated its commitment to fostering a positive and innovative work environment by receiving an award as one of the Best Places to Work in South Carolina for the fourth consecutive year.
Businesses from all around the state participated in a two-phase survey procedure to be eligible as an outstanding workplace. Additionally, an employee feedback survey executed to gauge the employee journey resulted in an impressive 96% satisfaction rate. And out of 111 companies, we were honored to be in the top three of the small business category.
Our Company Culture
This remarkable achievement speaks volumes about our company's dedication to creating a workplace where innovation, collaboration, and employee well-being coexist.
As a company, we consistently work toward improving and maintaining an exceptional company culture. We invest in our employees' professional growth to nurture an innovative atmosphere where our team can thrive daily.
"Our work environment is friendly, welcoming, and full of great people," one employee says.
Employee-Centric Approach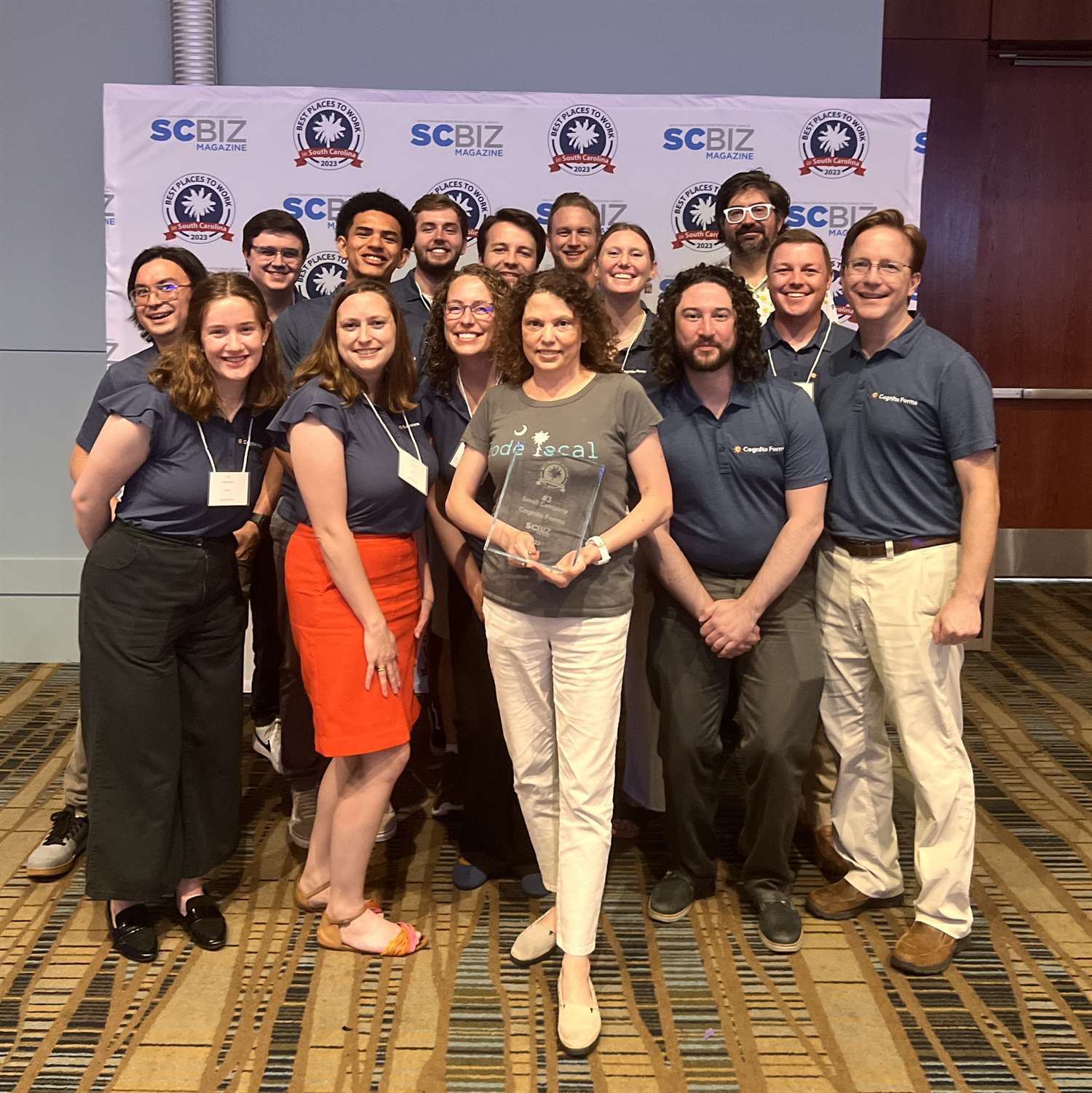 One of the key factors behind Cognito Forms' consistent success in the "Best Places to Work" ranking is our unwavering focus on our employees. We strongly emphasize work-life balance, providing hybrid schedules and remote work options. This approach has boosted productivity and allowed our employees to maintain a healthy equilibrium between their professional and personal lives.
Nurturing Innovation and Collaboration
Our core values are the root of our company culture:
Innovate: We constantly seek new ways to solve problems and empower customers with a can-do attitude, valuing continuous improvement.

Be Tenacious: With patience and passion, we aim to make a global impact by building a powerful platform, turning challenges into opportunities.

️Act With Integrity: Open collaboration, honesty, and transparency guide us as we focus on big ideas and unique solutions, free from office politics.

Simplify: We strive to simplify complex problems, making processes and products easy to use and efficient while pursuing knowledge and improvement.

Appreciate Each Other: Valuing people for who they are, we nurture a positive environment that supports our team, users, and community, fostering respect and growth.
Each value is a call to action and defines how we work at Cognito Forms.
"Cognito Forms effectively organizes teams to reach achievable and sustainable goals that both improve the product and outline the path of the product as we advance, all while accepting and using input from employees. It feels like we all created the product," says a team member.
They provide a welcoming environment that encourages health and wellbeing (inside and out of the workplace) and opportunities to grow professionally and as people. They actively work towards not just growing the business, brand, or product – but also the people that work there.
Team Member
Professional Growth and Development
Cognito Forms' commitment to its employees' professional growth sets us apart. We offer extensive training opportunities, internships, and a clear career advancement path. By investing in our employees' skill development, Cognito Forms ensures that each team member has the tools to excel in their roles and contribute meaningfully to our company's success.
Community Engagement and Social Responsibility
Cognito Forms' commitment extends beyond the office walls, strongly focusing on community engagement and social responsibility. We encourage our employees to give back to the local community through various philanthropic initiatives and volunteer opportunities. This commitment strengthens our company's ties to the region and fosters a sense of purpose throughout the office.
As we continue redefining workplace excellence, we strive to learn from our team and continue to improve. And by placing our core values at the forefront, fostering innovation, and contributing positively to the community, we create a work environment that attracts and cultivates loyalty and long-term success.
If we sound like a company you'd like to be a part of, check out our available positions. We're always looking for talented people to join our team.
---