Get ready to take advantage of our newest feature: the ability to save your form entries as PDFs! As a format that's easily shared and displayed across different computers, PDFs are a valuable asset to any organization, large or small. Up until this point, this particular function was only possible through the process of printing your entries in Google Chrome, and with limited options for customization. With this new capability, saving and sharing your entries as PDFs is easier than ever!
Customize your PDF
Instead of simply saving the entry as is, take advantage of different options when it comes to specifying the fields and other information that appear on your document. You can include or exclude a page title, your logo, page numbers, internal fields, blank fields, and more. Additionally, you can edit an entry's fields and delete as much data as you like to create a blank version of your form. To open the Save As PDF dialog box, select the entry you want to save, then click the Save as PDF button at the top of the page.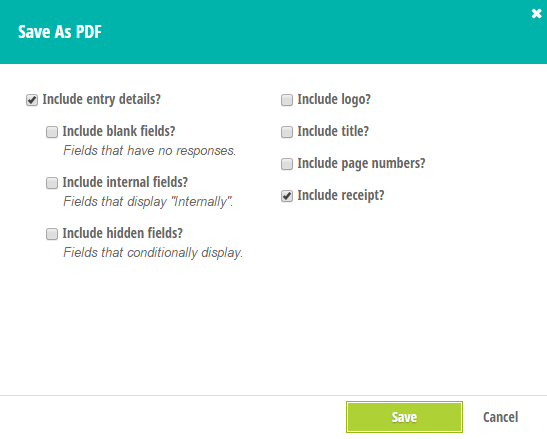 Once you've finished customizing your document, click Save to instantly download your entry as a PDF. You can now print it out to use for your own reference, or share it with someone else as an email attachment.
For more information about saving your entries as PDFs, refer to our help topic.
---
Nadia is the Marketing Coordinator for Cognito Forms. In her spare time, Nadia enjoys listening to French house, drinking iced coffee, and talking about herself in third person.