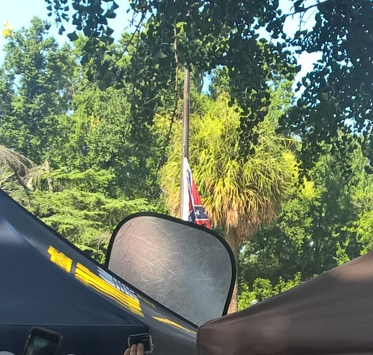 Today was a historical day in the life of our little state of South Carolina! We usually stay out of the lime-light and just enjoy the beautiful famously-hot weather and southern hospitality of our neighbors. But today was a bit different as the whole world watched with baited breath as the controversial Confederate flag was ceremoniously lowered for the final time on statehouse grounds.
While I am deeply saddened by the tragic events that led up to today, I am immensely proud of how our state has come together in peaceful harmony to move forward and embrace a better future. After one verse of Amazing Grace, the flag came down (as you can see from my view on the ground). Then, after a brief chant of USA, USA, USA, was humorously followed with Na Na Na Na Hay Hay Hay Goodbye.
---
Jamie is co-founder of Cognito Forms, an online form builder for organizations seeking to quickly and easily connect with their customers. In his free time, Jamie loves spending time with his wonderful wife and kids, training for triathlons, camping with boy scouts, singing in the choir, and trying out the latest gadgets.