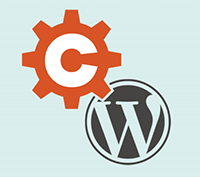 At Cognito Apps, our team is dedicated to finding new ways to help organizations connect more easily with their customers and with their data. We know how critical it is that our Forms builder integrates seamlessly with the most popular tools, so we're excited to announce the addition of Cognito Forms as a WordPress application.
By creating this app for WordPress, we're giving users a unified experience when building and installing our simple-but-powerful forms. No knowledge of HTML is needed, meaning you're ready to rock and roll in just a few clicks.
How It Works
Installing the Cognito Forms app allows users to create and embed our forms directly within WordPress. Everything can be accomplished in one place, eliminating the need to switch between applications, so you can get back to sharing your knowledge with the world.
Use the plugin menu to view your current forms, build from a template or start from scratch. Once you're ready to install a form, it's as easy as creating a new page or blog post. Click the Cog icon to insert any of your forms, hit publish, and there you go! Powerful forms for a powerful site.
From start to finish, the Cognito Forms app for WordPress gives you an intuitive online form experience that works hand-in-hand with your site.
---