In this three part series, we will explain, in detail, the path we have taken to make Cognito Forms work for our international market, and for users that prefer other languages right here in the United States. This is a complex topic, so we broke it down as follows:
Why Now? When is the right time to address localization and internationalization in a product?
Localization Myths Three myths we encountered and dispelled when researching how to approach this with Cognito Forms.
What We Did & Did Not Do Our experience technically implementing support for international users without losing our mind (well, maybe a little bit).
Part 1: Why Now?
When we launched Cognito Forms a year ago we started with a basic set of features, intending to do what we do best: develop, test, release, listen to our customers and repeat this process to create the best form builder in the world. With that in mind, we knew we weren't ready to tackle making our forms work well for international users. We did not have much experience with customers outside of the US and decided to take a wait-and-see approach to better understand the market.
Fast forward a year and we now have a much richer set of features, a robust and growing user community and thousands of international users of our product. On any given day, half of our new user registrations are from outside of the United States. While some are from English speaking countries like the UK or Australia, many more are from France, Germany, India, Japan or other countries around the world: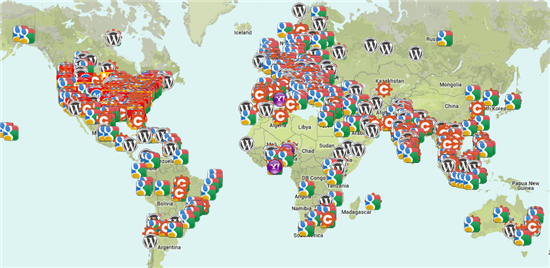 We started receiving great feedback from these international customers. Some were general questions about features and how to do things in Cognito. However, many of these questions focused on localization issues like changing error messages to be in another language, showing dates in a different format, and using a currency other than US dollar. When we released support for super easy payment forms powered by Stripe, our first question was from a European customer stating they would like to use Cognito for all of their online payment forms, but needed support for Euros.
All of this feedback was refreshing and galvanized our intent to address the needs of our international customers, while also making the product better for folks back home. Also, while researching localization we realized that only 10% of Internet users live in the United States and only 25% live in primarily English-speaking countries. It's one thing to know the world is a big place and quite another to see the hard numbers.
Fortunately, the seeds of our product date back almost five years, and we had been planning to address localization from the start. This three part series discusses the problems and myths associated with true localization, including the solutions we are about to release and problems (no, opportunities for improvement) that lay before us.
---