With the help of Cognito Forms' powerful calculations, you can do anything from controlling the visibility of your fields to creating your own custom error messages. Among the plethora of possibilities, you also have the ability to directly assign numeric values to Choice field options in order to build quizzes and tally totals!
Scoring your questions
Let's say you have a form that screens prospective tenants for your rental property. Based on how applicants answer, you want to tally a final score that indicates whether they meet your quality standards or not.
For example; answering "Yes" to the question of having owned a home before could earn the applicant one point, while answering "Yes" to being a smoker will result in zero points. After they submit their application, you can use the final score to quickly evaluate how they fared on their reference check, as well as easily compare the prospective tenants.
In this example, we'll use a shortened rental application form that includes some personal information, the applicant's signature, and five basic background questions:
To create our point system, all we need to do is select each Choice field and find the Assign Values option in the field settings. You can then adjust the point values to any numeric value, assigning different values for different options. For example, you could set a value to -1 to subtract a point if the applicant has bad credit.
Next, add a Calculation field to your form labeled Score. Use the following expression to add up all your choice field values:
=HowIsYourCredit_Value + HaveYouEverOwnedAHome_Value + DoYouSmoke_Value + HaveYouEverBeenConvictedOfOrPledGuiltyOrNoContestToAFelonyOrMisdemeanor_Value + HaveYouEverBrokenARentalAgreementOrLease_Value

Lastly, make sure to set the Score field to only appear internally.
Tallying your results
With the ability to insert fields into the form confirmation message, you can let prospective tenants know their background check score as soon as they finish their application: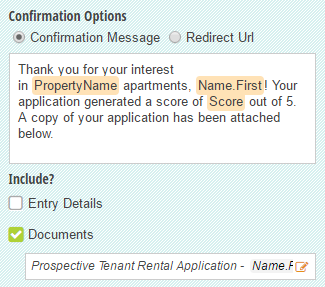 You can also include a copy of the applicant's entry:

On the Entries page, easily view your submitted applications with their respective scores: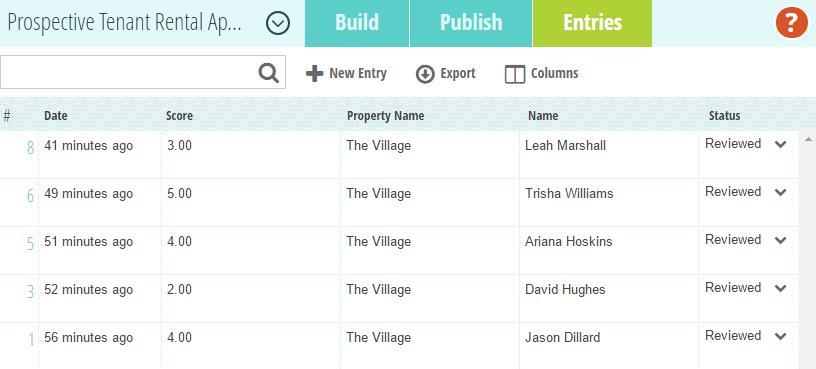 Or, use the advanced search option to search and filter through entries depending on their score:

Need any help with adding point values, or have any questions about Cognito Forms in general? Feel free to contact us!
---
Nadia is the Marketing Coordinator for Cognito Forms. In her spare time, Nadia enjoys listening to French house, drinking iced coffee, and talking about herself in third person.