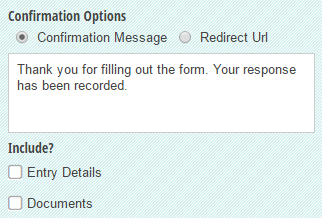 You can control what people see after your form is submitted with your form's Confirmation Options. These options can be changed by selecting the Submission Settings button at the bottom of your form's Build page.
Confirmation message
The default confirmation option is a thank you message. You can leave the default message, or write your own in the corresponding text area.
The message text area supports basic formatting, as well as the option to insert field values from your form. For example: You may want to personalize your confirmation message by including the name of the person who filled out the form (assuming you already have a Name field on your form). To do this, go to your confirmation settings and click the Insert Field dropdown. Here, you can select the field data that you want to include.
From the Entry section in the Insert Field dropdown, you also have the option to include the entry number, status, the date that the entry was created/submitted/updated, and an admin link that goes directly to the individual entry on the Entries page. You can also insert entry view and edit links into your message, which will allow your users to view or edit their entry after submission. Or, you can use the Admin Link option
Redirect URL

The other confirmation option is to redirect the user to a specific page on your website after the user submits the form. This can be done by selecting the Redirect Url option and placing a full Url or website address into the textbox. If you want to include field values from your form in your Redirect URL, learn more in our form prefill guide.
Quick Tip
Forms embedded via the AMP embed option do not redirect upon submission.
Entry Details
Check this box to include the user's form entry data on the confirmation page. This data can be used as a confirmation receipt that the user can print out. The entry details will be displayed in a two-column format similar to the layout of your form.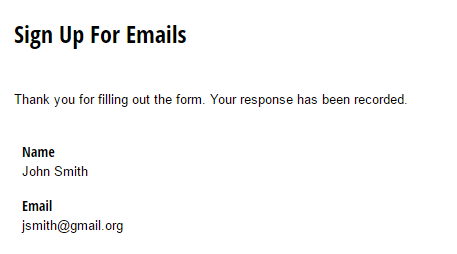 Documents
Check this box to include a PDF or Word copy of the submitted entry on the confirmation page. From the drop-down menu, select the template/s you want to use; you can edit templates and add more from the Manage Templates menu.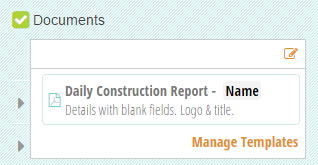 Users can download their document directly from the confirmation page after they submit their entry:

You can also include documents in notification emails and confirmation emails.