From fundraising to volunteering, online forms enable you to easily collect key information to help automate processes within your non-profit organization or charity.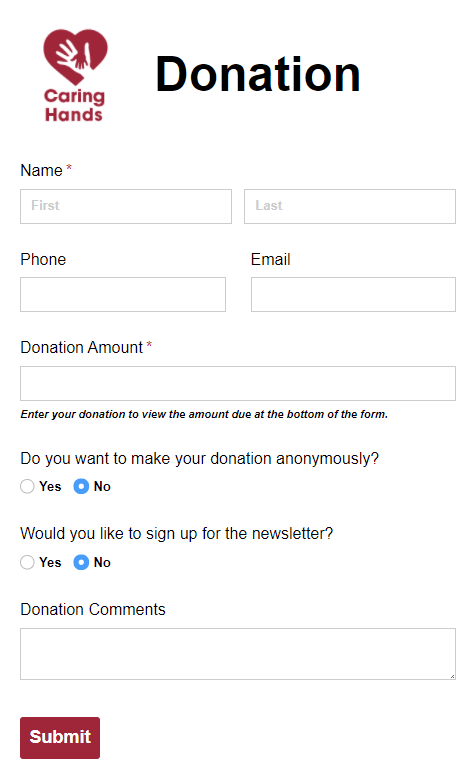 We put together a list of five essential forms to help you manage, organize, and save time – so you can spend more time making a difference.
Donation Form
Online giving is growing. And donation forms are a quintessential aspect of this.
Our free Donation Form enables you to easily set up and facilitate giving campaigns, with little to no coding knowledge.
Simply modify the template according to the needs of your organization, add payment processing (we partner with PayPal, Stripe, and Square), and start accepting donations for your cause.
Volunteer Application Form
Use our free Volunteer Application Form to easily collect and sustain volunteers online to support your charitable events.
Include custom fields depending on the volunteer information you'd like to collect, and be sure to set up notifications to alert your staff when someone expresses interest in getting involved!
Non-Profit Expense Report Form
Want to track your volunteer expenses for easier organization and reimbursement?
Use our free Non-Profit Expense Form to collect volunteer details, expense information, relevant files, and anything related you'd like to add.
Volunteer Survey Form
Offering meaningful and compelling opportunities for people to stay connected to your mission is crucial for non-profits. Our Volunteer Survey Form is used to get feedback on a volunteer's overall experience from an event or community service opportunity.
Simply customize your form with your logos/branding, specific questions and rating scales to assess volunteer satisfaction. Then, embed the form on your organization's website or send it out to volunteers directly via email or social media.
Community Service Hours Form
Help to record and organize your volunteers' community service hours for future use. This easy-to-use Community Service Hours Form requires volunteer information, and the date and hours of service. It also requires a supervisor's signature (typed or handwritten) using our electronic signature field.
Entries are stored and can easily be exported to a spreadsheet – all of which can be downloaded, emailed, or printed.
---