Last November, we revamped the Textbox field to include advanced text input validation; making it possible for you to easily validate various types of user input (like Zip Codes, Social Security Numbers, MAC Addresses, and even custom strings). This month, we've added another unique feature to the Textbox field: the ability to mask inputted passwords from view!

To securely collect passwords through your Cognito Forms, start by opening up your form settings and make sure that you have data encryption enabled. Our data encryption feature (available to organizations on our Team and Enterprise plans) adds an extra layer of security to your entry data, and also prevents it from being transmitted out of your Cognito Forms account.
Lastly, add a Textbox field to your form, and select Password as the field type. And that's it! Now, when a user types in their password, the characters are masked from view:

Password validation
With the help of the custom error option, you can also ask users to confirm their password and validate that the two passwords match. To do this:
Add a second password field to your form labelled "Confirm Password" (or something similar).

From the field settings of your second password field, select Custom Error Option - When. In this case, we want an error message to appear when the second password is not the same (or not equal to) the first password: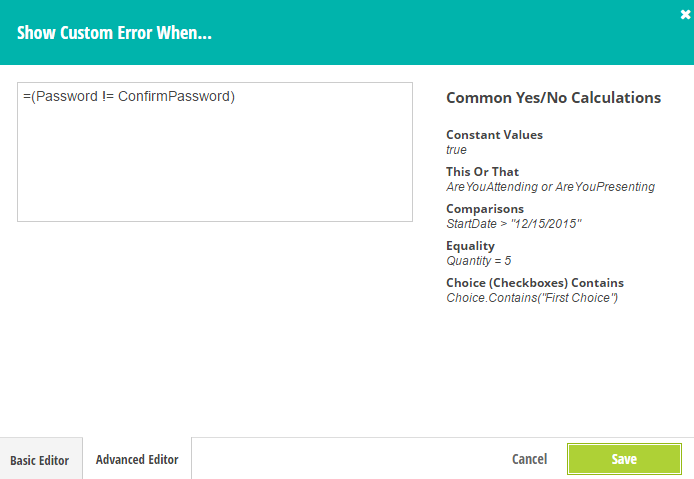 Make sure to write your custom error message: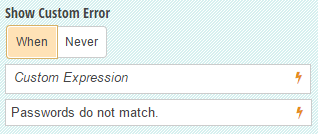 Now, when a user types in an email that doesn't match the original Email field, a message will appear to let them know:

Have any questions about collecting passwords, or Cognito Forms in general? Feel free to contact us and let us know!
---