This feature is available to organizations on the Pro, Team, and Enterprise plans.
Once you make a change to the current entry view (like displaying different columns, sorting through entries, or filtering entries down), you can click the save icon to save those settings as a unique entry view. Create up to 16 different entry views per form, then toggle between each view as needed.
To create a custom entry view:
Open the Entries page for your form.
Select the All Entries dropdown and then select + New View.
Customize the entry view name, columns, and sort/filter options.
Select Save to save your new entry view. If you'd like to make your new entry view the default view for your Entries page, click the gear icon next to the entry view name and select Make Default.

View settings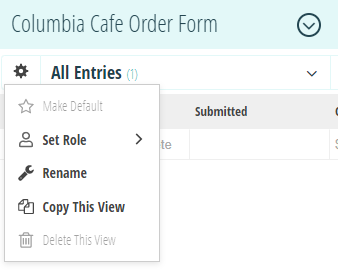 Click the gear icon on the left hand side of the Entries menu to open your view settings:
Make Default – Set the current view as the default view on the Entries page.
Set Role - Specify a role for the entry view. This will only display fields (and actions) available based on conditions set for the role.
Rename – Rename the view.
Copy This View – Make a copy of the view.
Delete This View – Delete the view.


Frequently Asked Questions