We're beyond excited to announce our latest feature release: enhanced entry management! If you log in to your account and open up the Entries page, you may notice that it looks a little different:

The new Entries page is chock-full of features and enhancements that make organizing, viewing, and managing your entry data easier than ever. With the ability to sort and filter entry data, save unique entry views, and perform bulk operations, you can now build much more efficient and complex business workflows!
Organize your data
To organize your entry data:
Specify which columns you want to display:


Sort through your data as needed. The new sort function will rearrange entries based on alphabetic order, numeric order, or even if certain values (like Yes/No fields) are checked or unchecked:


Filter down your entries to just the ones you need to see. You can filter entries based on entry status, payment status, by keyword, or using the advanced filter:

Create entry views
Previously, whenever you wanted to filter your data or change the columns that appeared, you would have to make those same changes every time you came back and forth to the Entries page. Now, however, organizations on our Pro, Team, and Enterprise plans can save those settings to create unique entry views!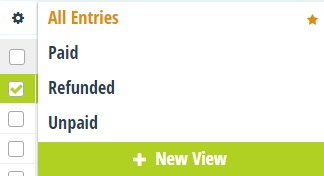 The way it works is simple: once you make a change to the Entries page, you have the option to save your change as a new view. Create up to 16 different entry views per form, and then toggle between each view as needed. The gear icon on the left allows you to edit your view settings; you can rename the view, set it as your default, make a copy of it, or delete it.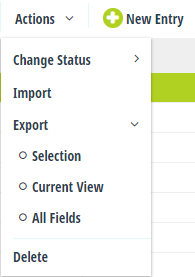 Perform bulk operations
If your form has a ton of entries, trying to make individual status updates or deleting them all one by one can be quite a tedious task. Instead, take advantage of the ability to perform operations on multiple entries at once!
Start by selecting the specific entries you want (or the entire entry view), and then use the Actions tab to change the entry status, import entry data, export the data to Excel, or delete the entries.
Have any questions about entry management? Feel free to get in touch with our support team, or just leave a comment below!
---