Cognito Forms is excited to begin offering HIPAA business associate agreements! Available to organizations on the Enterprise plan, establishing a BAA with Cognito Forms is a cost-effective solution that makes it easy to create a variety of medical forms, including:
new patient registration
appointment scheduling
refill requests
patient satisfaction surveys
online bill payment
To get started building HIPAA compliant forms:
1. Establish a BAA with us
Sign our HIPAA Business Associate Agreement to enable additional security measures, like automatic form encryption.
2. Build your forms
Easily build forms with our intuitive drag-and-drop form builder, or quickly get started with our healthcare templates. Mark PHI fields as protected to avoid unintentional transmission via email or other insecure gateways.

3. Publish to your website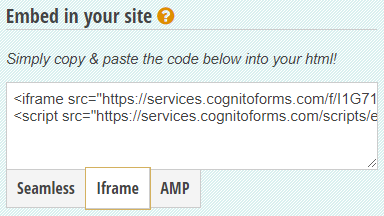 Embed our forms directly into your website to create a truly custom experience for your patients. Or, simply make them available via direct link - no coding required! When embedding in your website, take advantage of our Iframe embed option to maximize security.
4. Integrate with your EHR
Please note that this will require some work on the part of your EHR provider.
Leverage our secure JSON post to push submitted appointment requests, prescription refills, and other patient inquiries directly into your electronic health record system. Our JSON includes the submitted form data, as well as direct links to PDF documents that can be easily imported into most EHR systems.
5. Manage patient requests
When EHR integration is not possible, simply log into Cognito Forms to securely review and process patient requests. Quickly mark requests as complete to track what needs to be done next.

Check out our help topic to learn more about HIPAA compliance in Cognito Forms.
---
Jamie is co-founder of Cognito Forms, an online form builder for organizations seeking to quickly and easily connect with their customers. In his free time, Jamie loves spending time with his wonderful wife and kids, training for triathlons, camping with boy scouts, singing in the choir, and trying out the latest gadgets.