Your usage is based on your organization's number of users, entry count, number of document merges, and your overall storage capacity.
You can check your organization's monthly usage in the bottom right corner of your organization's Dashboard or from the Plan section on your organization's settings page.
To check your organization's monthly usage:
Select your organization's name in the top left corner and then select Settings.
Click Plan in the left-hand navigation.
You can now view the current usage for your users, entries, custom documents, and storage.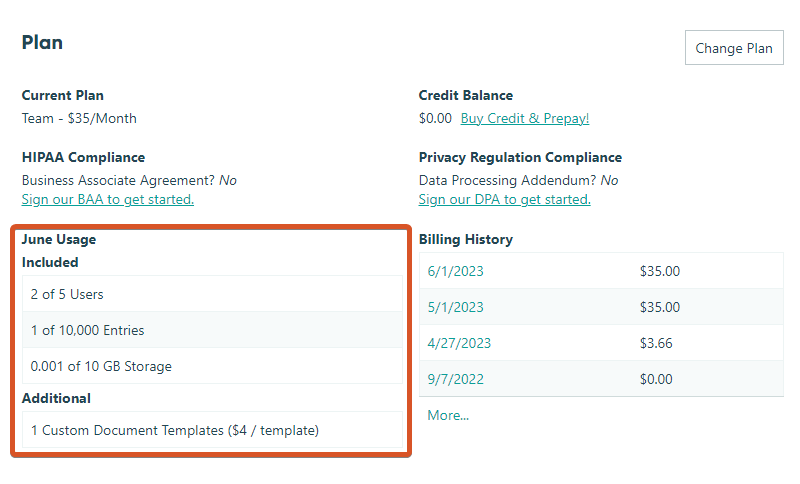 Storage capacity
Quick Tip
We divide by 1,000 (not 1024) to calculate storage amounts in KB, MB, GB, etc.
Your organization's storage capacity (which does not reset monthly) is calculated based on a mix of the following:
The form entries (including the entry audit log and entries that have been archived).
All files uploaded to entries via the File Upload field.
Signature fields.
You can view the storage amount of individual forms on your organization's Dashboard:

Exceeding limits
Quick Tip
Organization owners will be notified via email when their organization passes 80% of their entry or storage capacity and again when the limit has been exceeded.
When you exceed your plan limits, here's what will happen:
Entries
Excess entries will continue to be collected, but access to them will be locked. Additionally, excess entries will not trigger any email notifications or integrations.
To unlock these entries, simply upgrade to a plan level with the necessary entry capacity within the next 30 days. (After 30 days, you'll no longer have access to the locked entries.)
Storage
Uploaded files will continue to be collected, but access to them will be locked.
To unlock these files, either upgrade to a plan level with enough storage or delete any entries with attached files. Organizations on the Enterprise plan can increase their storage capacity beyond the 100 GB limit at a cost of $25 per 50 GB.
Users
If you downgrade to a free Individual plan, excess users will lose access to the organization and not be able to manage forms or entries. On all other plans, excess users will automatically be billed per additional user/month for each user above the amount included on your plan level. See our Pricing for details.