You can check your organization's monthly usage from the Plan section on your organization's settings page. Your usage is based on your organization's number of users, entry count, number of document merges, and your overall storage capacity.
To check your organization's monthly usage:
Click on your organization's name in the top right and then click the settings icon next to your organization.
Click Plan in the left-hand navigation.
You can now view the current usage for your users, entries, merges, and storage.

Storage capacity
Quick Tip
We divide by 1,000 (not 1024) to calculate storage amounts in KB, MB, GB, etc.
Your organization's storage capacity (which does not reset monthly) is calculated based on a mix of the following:
The form entries (including the entry audit log and entries that have been archived).
All files uploaded to entries via the File Upload field.
Signature fields.
You can view your overall storage capacity from the Plan section of your organization settings page. Additionally, you can view the storage amount of individual forms on the forms home page: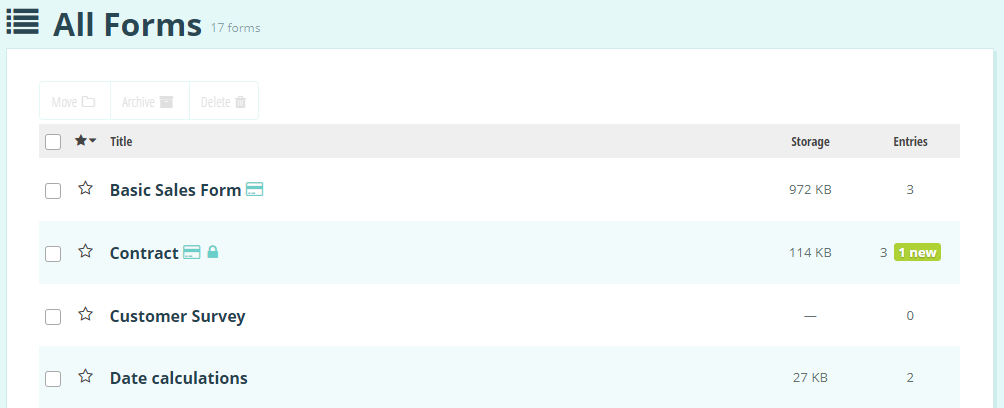 Clearing out storage
Typically, your organization's storage is mostly comprised of uploaded files. To delete the files attached to your entries:
Select an entry from the entries list on the Entries page.
Once the specific entry has been selected, scroll to the Document Upload field.
Select the X icon to delete the file attached to the entry.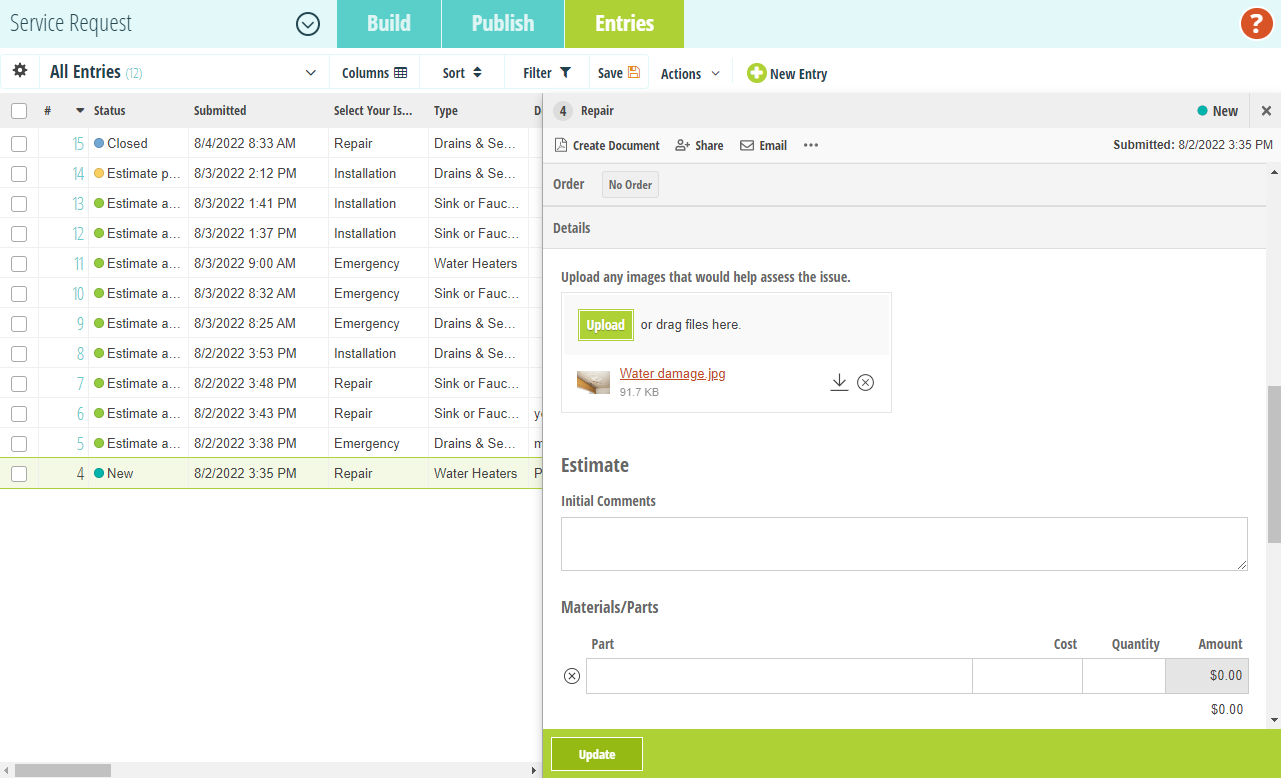 Exceeding limits
When you exceed your plan limits for entries/storage/users, the following will occur:
Entries
When the number of new entries created in a given month exceeds the limits for the current plan, these additional entries will be locked. Cognito Forms will not prevent entries from being created and will not affect form submissions. These locked entries can be unlocked within 30 days by upgrading to a plan that provides a sufficient number of monthly entries.
Storage
When an organization exceeds the total amount of storage allowed for their current plan, downloading of uploaded files will be blocked. Cognito Forms will not prevent new entries from being created or files uploaded.
The ability to download uploaded files will be restored when the total storage for data and files drops below plan limits – either as a result of clearing up storage, or by upgrading to a plan that provides sufficient storage.
Organizations on the Enterprise plan can increase their storage capacity beyond the 100 GB limit at a cost of $25 per 50 GB. This is automatically added whenever storage capacity for the Enterprise plan is exceeded, and the charge is billed on the next invoice.
Users
When an organization has more users than the amount included in their current plan, two things may occur:
For organizations on the free Individual plan, additional users will be able to log in but will not be able to manage forms or entries. Since organizations on the Individual plan cannot invite users, this will only occur as a result of downgrading from a paid plan.

For organizations on a paid subscription plan, users above the plan user limits will be automatically billed monthly at the additional user rate ($2/user/month). The number of users for billing purposes is the number of active users (not including pending invitations) at the end of each month. Users can be removed from an organization at any time to reduce or avoid additional user fees.