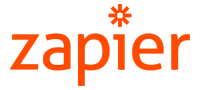 Zapier is a web automation platform that makes it easy for non-developers to connect their web services together, saving time and improving productivity. With Zapier, you can connect your Cognito Forms to over 400 apps; including Google Drive, Trello, QuickBooks, DropBox, and more!
Tips
Key terms
App – An app is a web service or application, such as Cognito Forms, Trello, or Google Docs.
Zap – A Zap is a link between your applications.
Trigger – A trigger is the event that starts a Zap. For example, if you wanted to create a new subscriber in MailChimp whenever a new form is submitted, the new form entry is the Trigger. Cognito Forms triggers include:

New Refund – Triggers when a refund is issued.
Update Entry – Triggers when someone updates an entry (excluding entries with a status of Incomplete, such as entries that have not yet been submitted, or entries saved via Save and Resume).
New Order – Triggers when an order is created.
New Entry – Triggers when someone submits your form.
New Payment – Triggers when a payment is collected.

Action – An Action is an event a Zap performs. For example, when a form is submitted, a new subscriber being added in MailChimp is the Action. Or, you can perform actions in Cognito Forms:

Create Entry – Creates a new form entry.
Set Form Availability – Sets the availability of a form.

Task – A task is an action that your Zap performs. For each action your Zap performs, one task will be used. In the example below, one task would be used for each subscriber Zapier sent to MailChimp for you.
Notes
The ability to send file attachments (such as uploaded files and generated documents) through Zapier is only available to organizations on our Pro, Team, and Enterprise plans.
Zapier does not fully support sending repeating section data from Cognito Forms. Alternatively, you can send data to an end point by setting up the end point url directly on the form using the JSON/webhooks feature. You can also set up a connection using Microsoft Power Automate, which does support sending repeating section data to other systems.
Tutorials
Check out our Zapier blog series for in-depth tutorials about how to integrate your forms with other services:
Getting started
First, you need to set up an account on Zapier. You have the option of remaining on a free plan (which allows up to 100 tasks per month), or choosing from one of their paid plans. Once you log in, you'll be taken to your Dashboard. This page includes Zaps that are turned on or off, as well as drafted Zaps that have not yet been completed. At the top of the page, you can select Make a Zap! to start creating your own Zaps, or you can select the Explore tab to find some inspiration!
When you start making your Zap, you'll be prompted to connect your Cognito Forms account when you choose it as your trigger or action. When that stage comes, you will need to first click to connect:
Click your avatar in the top right corner and select Connect Accounts from the dropdown menu.
Select Connect new account and find Cognito Forms in the app list.
Next, you will be prompted to login to your Cognito Forms account.
As the final step, select the organization you wish to connect and Cognito Forms will confirm that you want to give Zapier access to your account. Just click "Authorize Organization" to continue.
Your account will now be connected, and you can finish setting up your Zap!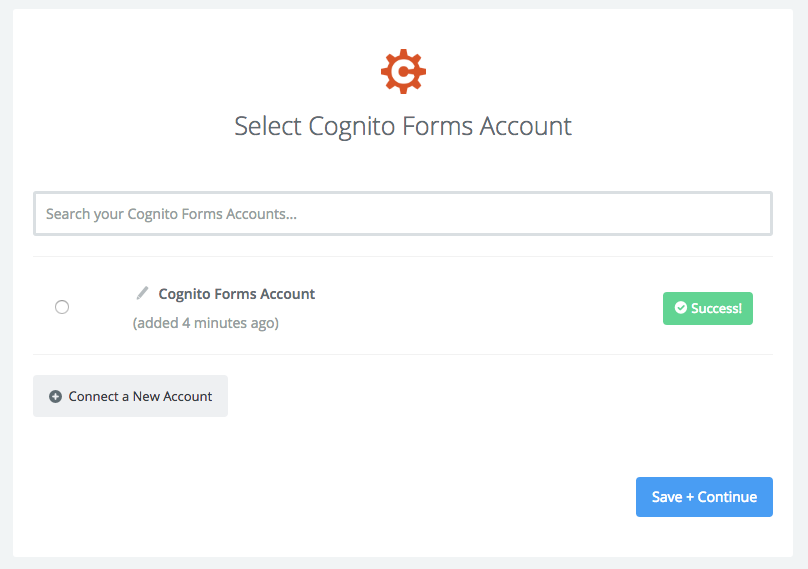 For more general information on setting up your Zap, check out the guide on making a Zap.
Shared Zaps
Cognito Forms has several pre-created Zaps for you to use, available on our Zapbook page.
For additional help and more specific assistance with Zapier's overall interface, refer to Zapier's help documentation.