This feature is available to organizations on the Pro, Team, and Enterprise plans.
Save & Resume allows people to save their progress and complete their form entry at a later date. Once Save & Resume is enabled, a Save button will appear at the bottom of your form. Clicking the Save button will save your progress and allow you to either copy or email a personalized link to your in-progress entry. If someone follows their saved link and returns to their entry within the allotted time frame, they can pick up where they left off and complete their submission.
Once you've enabled Save & Resume on your form, here are a few things to keep in mind: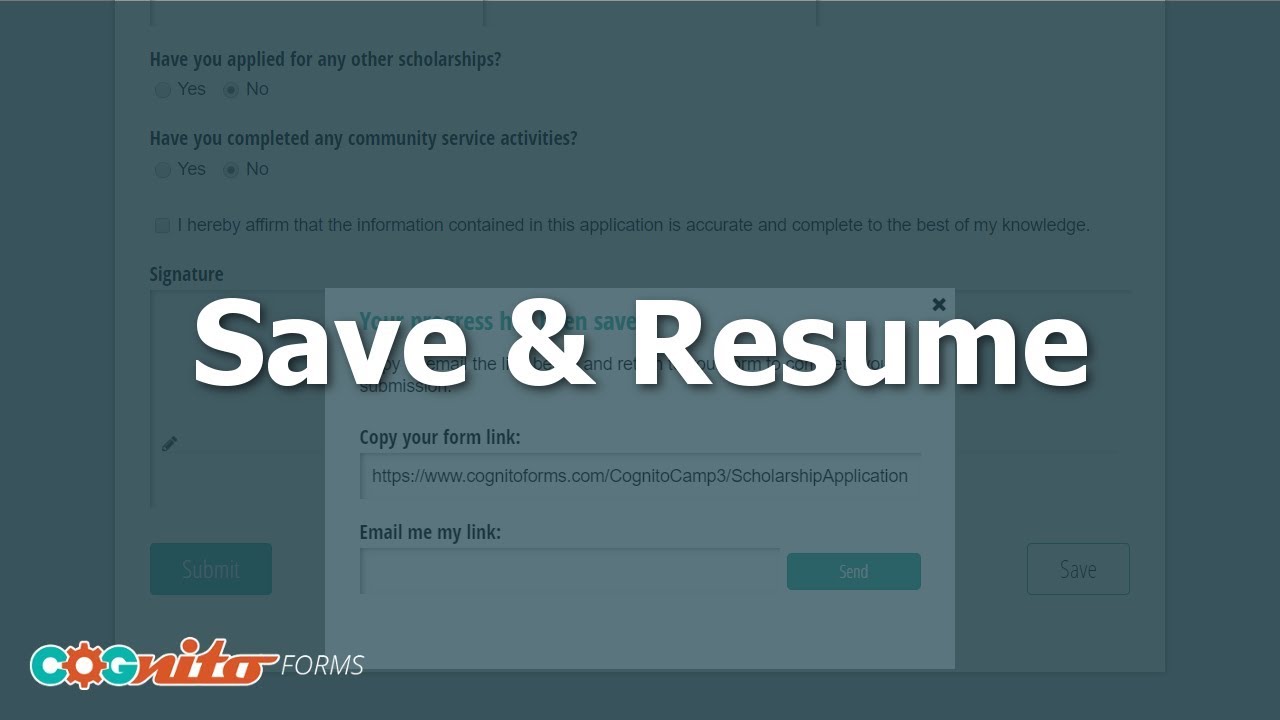 Enable Save & Resume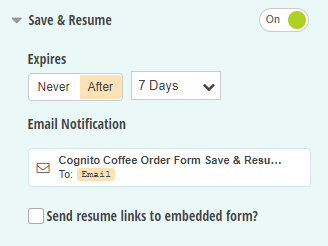 To enable Save & Resume:
Click the Submission Settings button at the bottom of the Build page.
Click the On/Off toggle for Save & Resume in the left-hand Submission Settings pane to turn the feature on.
Decide if you would like for the partially completed entry to expire after a certain period of time. By default, the entry doesn't expire. To set an expiration:

Choose the After option.
Select a time frame for expiration. The time frame defaults to 7 Days, but can be changed to 1 Day, 4 Days, 14 Days, 21 Days, or 28 Days.
Quick Tip
If you have an embedded form, select Send resume links to embedded form? to send people back to your website.
Email Notifications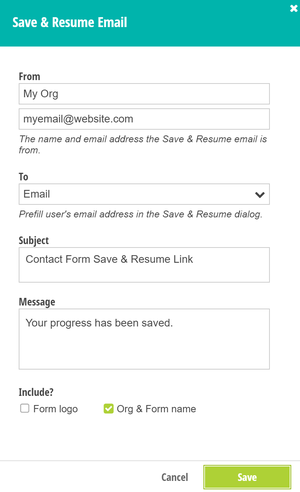 Next, check the Email Notification's settings by clicking on the notification's details.
From – Enter the display name and email address you want users to reply to if they respond to your form's email notification. The address that notifications are sent from (notifications@cognitoforms.com) cannot be changed.
To – Select the label of any Email field on your form. When someone enters their email address, the form will capture it to be used as the To address when the user saves their entry.
Subject – Create the subject line for your form's notification email. Use the Insert Field option to pull data from a form entry into the subject line, such as Name or Date.
Message – Enter a custom message that will appear in their notification email. Insert images, links or use the Insert Field option to pull data from your form's entries.
Include? – Optionally include your form's logo, or your organization and form name in the email. You can upload a logo to your form using the Style Editor.
Now, if someone chooses to email the link to themselves, they'll see this: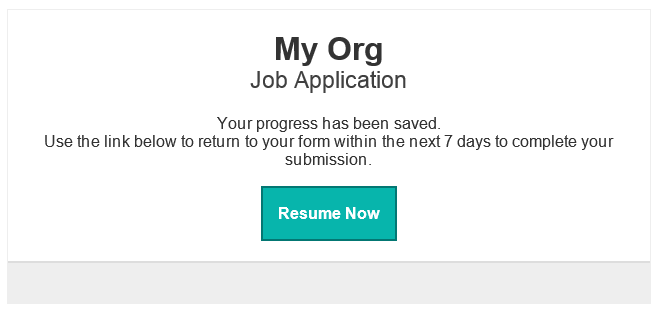 Saved entries
Once Save & Resume has been enabled on your form, you can view the entries that people have saved but not yet been submitted. These entries will appear with a status of Incomplete. Learn more about entry status.