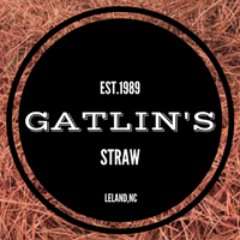 For this month's customer spotlight, we had the opportunity to chat with Tracey Gatlin of Gatlin's Straw! Gatlin's Straw utilizes several forms on their website to help run their online ordering system.
1. Tell us a little bit about your business!
Tracey: Gatlin's Straw is a small family-owned and operated pine straw business in Southeastern NC. Starting in 1989, Mr. Gatlin began supplying locally raked long-leaf pine straw to homeowners and also Commercial Landscapers for their landscaping needs. We currently provide services such as delivery, installation, and pick-up off our lot.
2. Why did you choose Cognito Forms?
Tracey: Prior to using Cognito Forms, I had been using a Submission Form that was offered to us through our Website Hosting Provider. As we continued to realize the growing rate of people wanting to use our online ordering system, I was quick to modify the form, but found out it was not going to work efficiently.
I was not able to block weekends or holidays. I could not show people their totals. I eventually stopped getting notifications all together when customers would place orders, which left customers irritated because they were not getting their orders, and I had no clue because I was not getting notifications. I had no customer service to help me fix the problem permanently. I would call and tell my WHP that I was not receiving submissions, they would "reboot" their systems, it would work one week, then glitch again. That was the final straw that broke the camels back, pun intended. :D
I sat down and did a lot of research, and came across Cognito Forms as the perfect solution with added bonuses that would make our online order experience easy and efficient.
3. How does your business use Cognito Forms?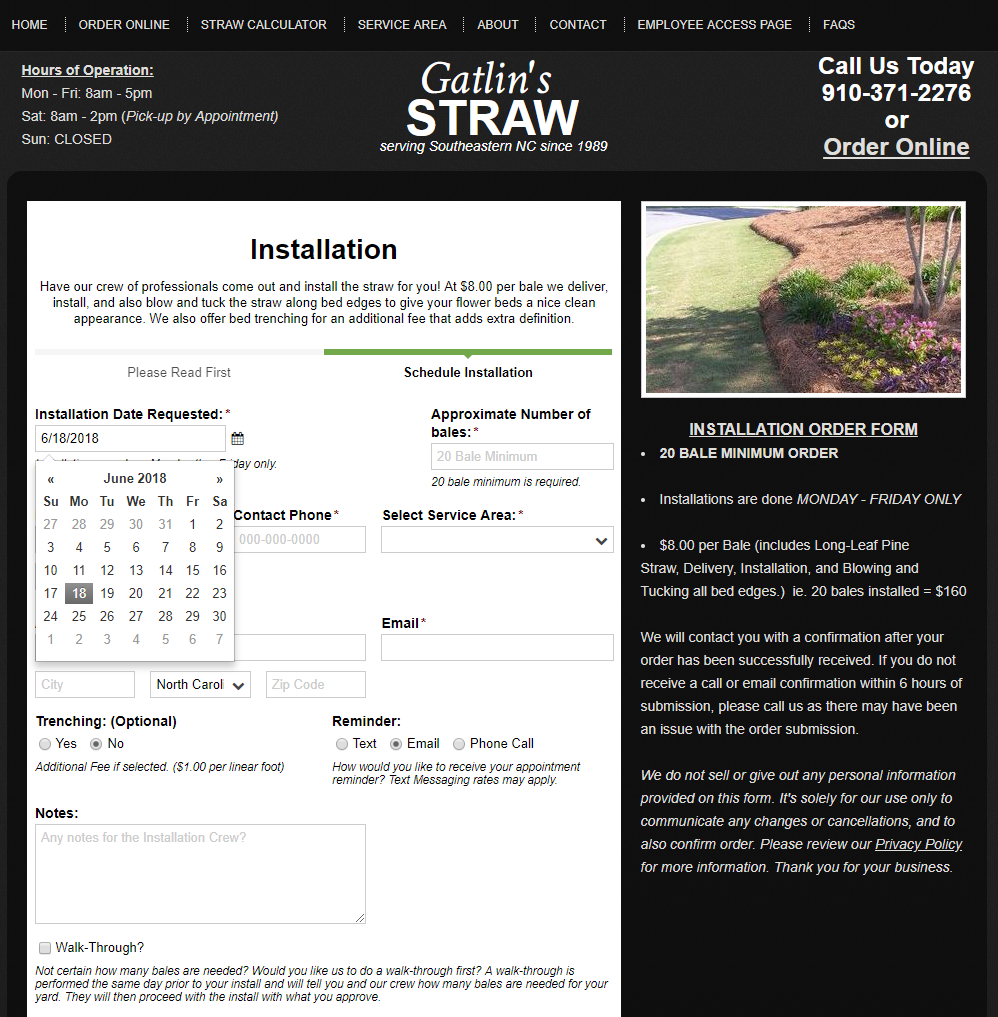 Tracey: The first time I created my Cognito Form, I was amazed! It was exactly what we needed to allow our customers the clear and concise online ordering form they were wanting and expecting. We were able to block days when we were not available, such as holidays and weekends. I could set a minimum for the order forms. And to top it all off, after the customer submits an order, they are automatically sent a receipt/confirmation with our email address and labeling.
I receive all orders in form of an email right away with all the customers order details and can also use the desktop shortcut which allows me to view and make changes to orders easily. We have recently added our new Installation Form in which all of our installation appointments are linked via Cognito Forms and Zapier, which I have programmed to automatically add to our Installation Crews' calendar. That literally saves me time at the end of the day planning routes since it's already in the calendar with all the customer notes.
We have even recently allowed our Commercial Landscapers custom logins with their own specific order form, allowing them to order online as well. Their forms have a lot of their basic information already entered. They just add the amount they need and where on which date. They also receive an automated receipt/confirmation for their records. This has received great feedback because they can order after hours when we are already closed after they get done with their jobs for the day, and still have their order delivered the next business day. Along with anyone else who has to work 8a-5p and not able to find time to place an order. These forms have literally allowed us the ability to earn business 24-7.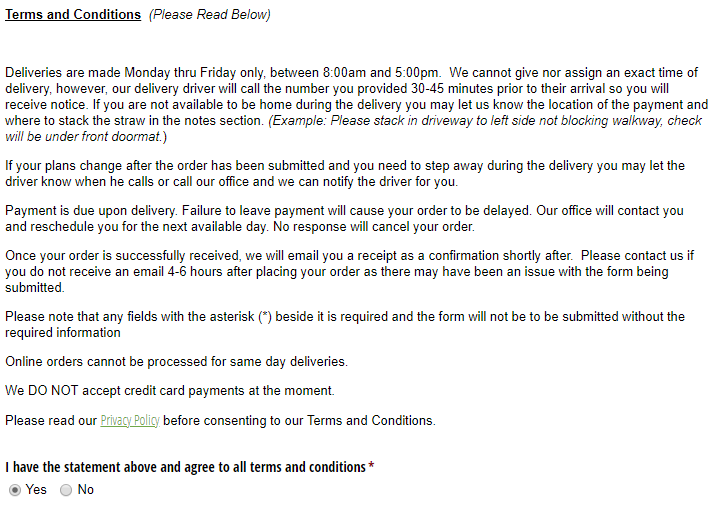 An added bonus which I initially was not looking for (but have become absolutely spoiled by) is the ability to require fields and set minimums. Before Cognito, we had customers not reading our policy and terms which stated our minimum for orders and hours of operations. They also wouldn't leave the proper information for us to get in touch with them about our orders. Now I have complete control, ensuring I have the proper information and that they know our requirements. They also have to agree to all our terms and policies before submitting an order, along with reading our Privacy Policy concerning the safety of any personal information submitted in the form. Being able to let customers know their information is safe and used only to communicate the details about their order has been reassuring.
Cognito Forms has really made Gatlin's Straw not only more efficient but organized and user-friendly. It has really helped us expand our business and make our customers' experience exceptional as well. With so many ways to customize our forms, we will be able to give our customers exactly what they need and with great reliability.
Thank you so much to Tracey for taking the time to answer our questions! Would you like to be featured in our next spotlight? Feel free to get in touch with us!
---