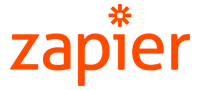 We're excited to announce our newest feature: Zapier integration! If you're not familiar, Zapier is a web automation platform that allows businesses to connect hundreds of top web services, such as MailChimp, Trello and QuickBooks Online. It is essentially a tool for users to link web apps together without needing any extensive technical knowledge. A couple months ago, we launched our Beta application to assist our users with their integration needs and help support the management of their entries. Now, we are ready to officially launch our Zapier integration, so you can start connecting your Cognito Forms with all your favorite web applications today!
How does it work?
When two apps are connected together through Zapier, they become a Zap. The user can set certain actions (called Triggers) in one app to set off specific tasks in the other app (called Actions). For example, you could connect your Cognito Forms with your Google Drive account to automatically push entries to the cloud as they are submitted. Whenever there is a new entry, Zapier will bridge the gap between the two apps and create a new file in your Google Drive.

##How do I get started?
First, make an account on Zapier. You can use the Free plan, which allows up to 100 tasks per month, or upgrade to a paid plan to receive up to 50,000 a month. After you're set up and ready to go, you can make your first zap. You can create your own Zaps to fit your specific business needs, or choose from the several different Shared Zaps that we've created for you. Here are a couple to try out:
With Zapier, there are countless possibilities to boost the efficiency and functionality of your forms. Get started now.
---