Display a thank-you message or send your users back to your website after they submit your form.
Need a form with custom confirmations?
Once your customers have completed your form, it's important to assure them that their submission was successful, and to provide them with a record of their entry. With the ability to include documents, embed form data, and add URL redirects, you can create custom confirmation messages that provide your users helpful information with a personal touch.
Include details and documents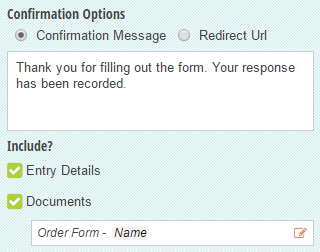 Allow your users to immediately view their submission details on your confirmation page after they press submit. They can also download and print out a PDF file or Word document containing their entry information directly from the page.
For forms with payment, Cognito Forms will automatically generate a receipt alongside the entry information.
Embed form data
With the ability to include field tokens (such as Name and Entry Number), you can personalize your confirmation message for each individual user.
Website redirects

Instantly take your user back to your website when they submit their entry. You can even post form data through the URL to create your own completely custom confirmation page.