Easily integrate apps and trigger automations.
Try this and all Integration features.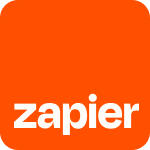 Zapier connects the web apps you use to easily move your data and automate tedious tasks.
Zapier supports over 2,000 apps including Salesforce, Google Drive, MailChimp, OneDrive, SugarCRM, Trello, QuickBooks, and DropBox.
If you are ready to use Zapier to automate and integrate your Cognito forms, get started now.
Connect apps to empower your data
With Zapier, you can easily map and build systems to automatically send data from Cognito Forms entries to your other apps.
You can also build "zaps" that set your form's availability and create entries in Cognito Forms. This enables you to add entries to Cognito Forms even when your form is turned off.
Get started today with these templates for commonly used connections.
Related Content
Want to learn more about automating actions with Zapier? Check out these related articles: