Easily integrate apps and trigger automations.
Try this and all Integration features.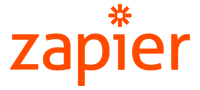 Zapier connects the web apps you use to easily move your data and automate tedious tasks.
Zapier supports over 2,000 apps including Salesforce, Google Drive, MailChimp, OneDrive, SugarCRM, Trello, QuickBooks, and DropBox.
If you are ready to use Zapier to automate and integrate your Cognito Forms, get started now.
Related Content
Want to learn more about automating actions with Zapier? Check out these related articles: