Seamlessly embed any form into your website with a simple copy and paste.
Need a form on your website?
If you want people to sign up for your newsletter, enter your contest, or register for your event, you can reach them where they already are—without forcing them to leave your website.
Easy embedding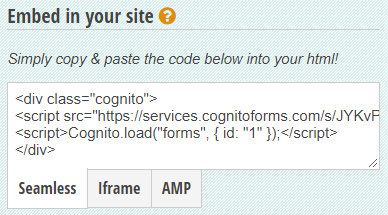 We make it super simple to embed your form right into any webpage. No complications, no heavy lifting; just a quick copy and paste of a short code into your HTML.
Choose from several embedding options: Seamless (the standard option), Iframe (compatible with just about any website or service), and AMP (completely valid AMP markup for mobile pages).
Have a WordPress site?
From start to finish, the Cognito Forms plugin for WordPress gives you an intuitive online form experience that works hand-in-hand with your site—go ahead and download the plugin today.